Responsible workwear at Suomalainen Kirjakauppa's flagship store
03.12.2018
Our new flagship store, Aleksi 15, opened its doors on 1 November 2018. We wanted a new look for our store, including our workwear.
We set up a workwear task force mainly consisting of store personnel: sales assistants and store managers. Responsibility became one of the most important themes in the team's discussions.
TouchPoint was chosen as the pilot partner for our new workwear because of their strong focus on responsibility. TouchPoint is a workwear manufacturer that specialises in responsibility, sustainability and ecology, with a mission to be the world's most responsible workwear company.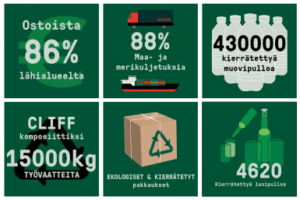 Together, Suomalainen Kirjakauppa and TouchPoint want to shoulder responsibility for our shared planet. The clothing industry has many adverse effects on the environment, and it is our common goal to reduce these impacts.
The employees working at our flagship store wear ecological clothing that remains comfortable throughout the working day. The design of the collection paid attention to both multifunctionality and personnel's wishes.
The vest dress is manufactured from recycled plastic bottles and it takes 13 recycled plastic bottles to make one dress. Fabric made from recycled plastic bottles is more ecological than traditional virgin polyester. The material is obtained by reprocessing recycled plastic bottles into fibre. Thanks to its durability and comfort, this fabric is ideal for use in workwear. The vest dress can also be used as a vest. 650 recycled plastic bottles were used to make the vest dresses worn by personnel at our flagship store! Staff aprons have also been made from recycled plastic bottles and it takes three bottles to make one apron.
The workwear collection for our flagship store personnel also includes responsibly manufactured chinos and a graphite grey collar shirt for men. There is also an organic cotton sweater for chilly days. Organic cotton is better than traditional cotton, as its cultivation does not use any artificial fertilisers or pesticides, which are extremely harmful to the environment. The sweater combines ecological fabric with a trendy look.
Thanks to its high-quality, ecological fabric and practical garments, our workwear collection is a responsible choice that will stand the test of time!
Kristian Tötterman
HR manager
Suomalainen Kirjakauppa
The author is Suomalainen Kirjakauppa's HR Manager and an enthusiastic workplace innovator.